Nicolet iN10 FT-IR microscope
The revolutionary solution used is the integration of the FT-IR spectrometer directly into the microscope. This approach allows a significant reduction in optical paths. The use of gold-plated mirrors and a perfect seal of the instrument's inside then further optimizes the performance of the microscope and reduces the need to purge it with nitrogen or dry air. The integration of the two previously separate instruments also saves space and independence from any older or incompatible FT-IR spectrometer. The iN10microscope can be supplied stand-alone or in conjunction with the iZ10module. The iZ10module then brings all the advantages of the FT-IR Nicolet iS10 spectrometer, including the possibility of using all existing SMARTand classic accessories.
More information here.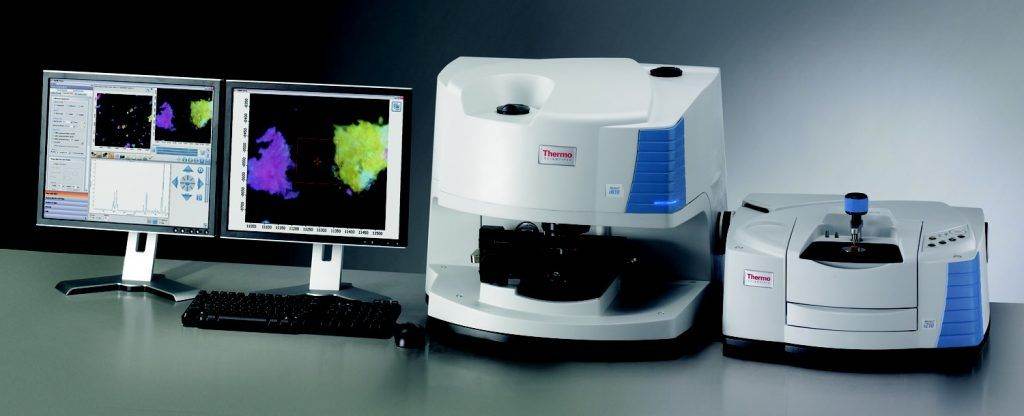 Infrared microscope Nicolet iN10 + module iZ10
The Omnic Picta control software, in conjunction with the Nicolet iN10 (iN10 MX)automatic infrared microscope stage, pushes the limits of microscope control beyond "mere" automation. Although the automation of your measurement will help speed up data collection, it will not help you to obtain the necessary answers without further logical steps. The innovative Omnic Picta software has been specially developed for fast analysis of acquired microscopic data: spectra identification, map analysis, direct analysis of images of your samples, etc.
Connection of Nicolet FT-IR spectrometers with thermogravimeters of various types and manufacturers.