Nicolet Antaris IGS FT-IR spectrometer for gas analysis
FT-IR spektrometr Antaris IGS byl vyvíjen tak, aby splnil požadavky, které vyžadují i ty nejnáročnější aplikace pro analýzy plynů. The design and extensive customer support programs have been designed in collaboration with the world's largest gas producers to address all of their analytical and process requirements.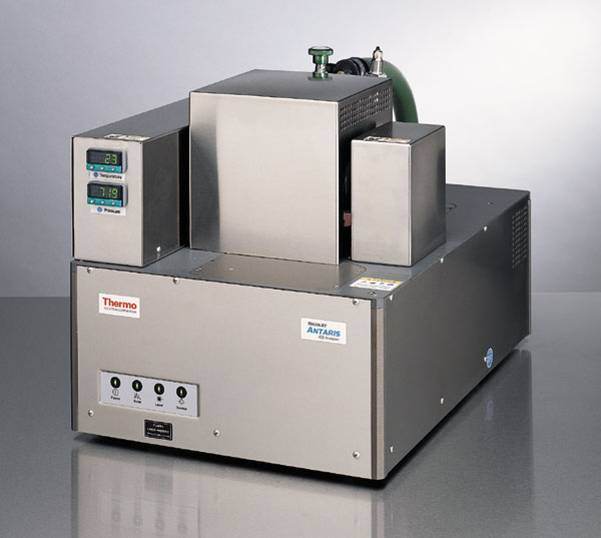 ANTARIS IGS infrared spectrometer
Nicolet Antaris IGS is the first integrated system to offer, among other things:
Continuous quantitative analysis with display of up to one hundred components simultaneously - this feature allows the evaluation and calibration method of chemometric type PLS, PCR, CLS or CLS II and at the same time you are able to react to the presence of an unexpected component in the gas mixture: we assume and expect the uniqueness of each sample measured.
Uniquely wide spectral range: 7,800 - 600 cm-1 with MCT-A detector and ZnSe beam splitter allows, in comparison with previously used BaF2 optics (up to 900 cm-1), the determination of many other components, e.g. aromatic hydrocarbons have their most intense and characteristic bands in the range of 900 - 600 cm-1.
Analytical system at the scientific level with high resolution (high spectral resolution allows otherwise very difficult or unfeasible determinations, e.g. low concentrations of hydrogen fluoride in high excess of water and carbon dioxide or various short hydrocarbons, such as methane, ethane, propane side by side, low concentrations of carbon monoxide at high concentrations of carbon dioxide, isotope resolution 12C, 13C, 35Cl, 37Cl and aromatic hydrocarbons such as benzene, toluene, xylenes, styrene, even when present in one sample; all critical components of the gas mixture can be determined at high resolution up to low detection limits, almost identical to the detection limits of individual pure gases in an inert matrix).
Intuitive control: just press a few buttons in the program.
Transferability of calibrations from one instrument to another.
Software tools for quantitative and qualitative analysis - fast analysis of acquired data.
Low operating costs.
Support of the production management process (MES and PCS), communication with control servers is also possible.
Possible hardware expansion - purge, sampling equipment, etc.
Integrated temperature and pressure control, automatic correction of results to different temperatures and pressures, simple control of conditions in the measuring cell.
Gas cells of various optical paths (5 cm - 100 meters).
Possibility of analysis of liquids and solids.

Connection of Nicolet FT-IR spectrometers with thermogravimeters of various types and manufacturers.