Principle of TGA analysis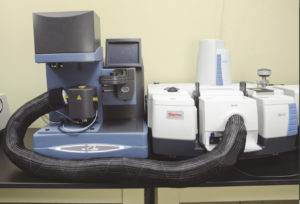 Thermogravimetric analysis (TGA) is a technique in which the weight of a sample of a substance is recorded as a function of changing temperature: the sample (milligrams to grams) is heated and the change in its weight is monitored on sensitive microbalances. TGA easily and quickly determines the thermal or thermal-oxidative stability of the sample and it is also possible to estimate its composition, moisture, organic and inorganic matter content.
By combining TGA and infrared spectroscopy (FT-IR), you have a unique opportunity to obtain not only information on the thermal stability of the sample, but also a detailed overview of the chemical composition of individual substances. Therefore, this combination finds its place, for example, in studies of polymers or pharmaceutical analyzes.