When measuring Raman spectra, high-power lasers are often used, which can damage the users' eyesight.
SampleCube is a special covered accessory with which you minimize the risk of accidental reflections of the laser beam and thus the risk of serious eye injuries. It is developed for the PicoRaman M3 Raman spectrometer, which is the first integrated system in the world enabling real fluorescence suppression thanks to the patented Timegated technology.
It also allows you to measure large sample areas, giving you more representative data about your sample. The sample holder can rotate eccentrically while the measuring probe scans it, greatly increasing the measurement possibilities.
The SampleCube is designed not only to be able to measure the entire surface of the sample, but also to limit the power of the laser that hits certain points on it, thus minimizing damage to delicate samples. Just like the power, the irradiation time of exposition is also adjustable for every sample point.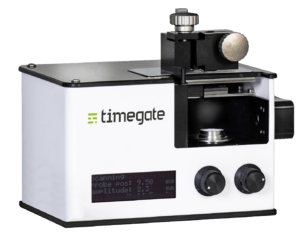 It is especially intended for powder samples, but it is also possible to measure flat samples or those that can be flattened, and liquids in vials or cuvettes.