The new iXRmulti-modal dispersion Raman spectrometer is the first commercially available process/laboratory Raman designed primarily for integration with other analytical methods. Its unique features enable fast hardware and software compatibility with other types of instruments for fast combined online analysis! The frequency of laser excitation is selectable according to your application and also user-changeable directly in the process conditions. The iXR also provides class-leading spectral resolution, spectral range and measurement speed. Possibilities of integration of Raman spectrometer iXR include combination with FT-IR spectroscopy, UV-VIS spectroscopy, X-ray photoelectron spectroscopy (XPS, ARXPS), rheometry, AFM methods, etc.). More information can be found here.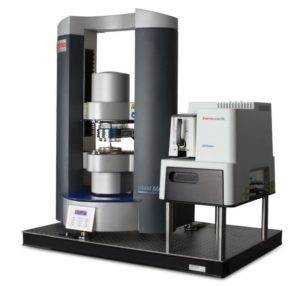 Combination of Raman spectrometer iXR and rotary rheometer HAAKE MARS
The iXR Raman spectrometer can be used with great advantage as a separate Raman spectrometer for laboratory purposes or for measurements outside the laboratory. The device can be delivered with a robust case for transport and other accessories according to your application:
Set of optical tubes and mirrors for outputting the excitation beam to your measuring instruments for online experiments
Adapters for measuring vials, bottles, polymer bags with samples, etc.
Video camera + manual micro adjustable XYZ table for Raman microscopy outside your laboratory!
and others, according to your application
The FT-IR spectrometers iS50 can be easily expanded with all the possibilities of Raman spectroscopy, but also microscopy using the new internal FT-Raman module. It is equipped with an excitation laser 1064 nm with software selectable power.