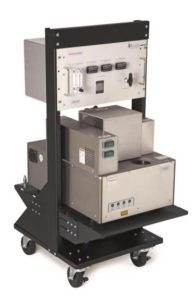 Infrared spectroscopy (FT-IR) in conjunction with the long-path gas cellis a very effective solution for checking the composition of compressed gases in tanks of various types, but also a fast detector of oxygen and helium purity for medical purposes. Depending on the selected gas cell (and the given application), the composition (or impurities) in medical gases up to ppt concentrations can be detected online using infrared spectrometers. However, systems with a detection limit in the range of ppm – ppb of impurities in the monitored gas are more common.
More information about this application can be found here.
Available are: dedicated gas FT-IR analyzer Antaris IGS, Nicolet iG50 for more demanding environments, or application of a gas cuvette to any infrared spectrometer from our portfolio (more about gas analysis can be found here).