Combination of Raman microspectroscopy and SEM
Why combine Raman and electron microscopy (SEM)? Electron microscopy gives you images of samples with very high spatial resolution and the use of so-called EDS detector provides you a detailed chemical map of your sample.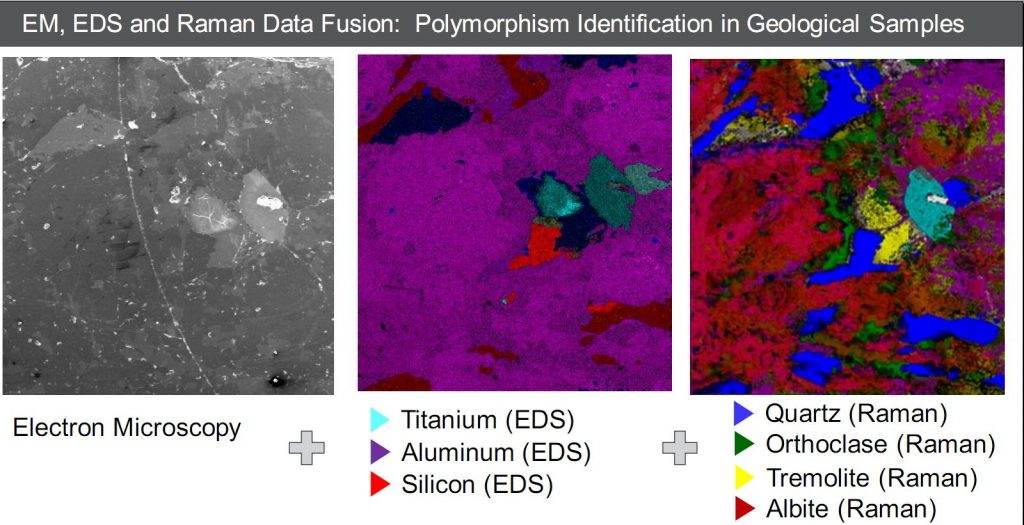 Add Raman Imaging Microscopyto take your results to the next level:
Samples can be analyzed at once with SEM/EDS and Raman microscopy to reveal molecular details of 2D and 3D structures.
Using the patented Thermo Scientific MAPS Correlative Microscopy Softwareyou can cover the chemical image of your SEM structures up to < 1 micron with single-point measurement or fast imaging of large areas.
Characterize the chemical composition of your samples, including morphology and polymorphism.
Raman polarization measurements can reveal crystal orientation, making Raman spectral analysis perfect for understanding the structure and functions of materials.
The Raman spectrum can quickly reveal uniformity, purity, thickness, and other symmetric bonding properties in 2D carbon materials such as graphene and carbon nanotubes.
Raman spectral data can also be used to speculate carbon-nitrogen-oxygen bonds to distinguish molecular structures providing additional information to SEM and EDS data.
Samples can be measured in their native form, eliminating the need for sample preparation. Raman microscopy is confocal, so that depth profiles of multilayer or embedded samples can be obtained without damaging the sample.
The Nicolet DXR3 Dispersi Raman Microscope is an instrument designed for applications requiring high spatial resolution, ease of sample preparation, and the use of the strongpoints of Raman microscopy.
The user-proven DXR Raman microscope is now available in the new version of the DXR3xi with a high-performance EMCCD detector and a microscopic table with the possibility of nanoslift for super fast Chemical Imaging of your samples.