Nano-FTIR spectroscopy and nano-imaging enable monitoring of chemical processes with 10nm spatial resolution and bring a unique possibility of subsurface tomography of samples, and thus, among other things, information about the orientation of crystals in 3D.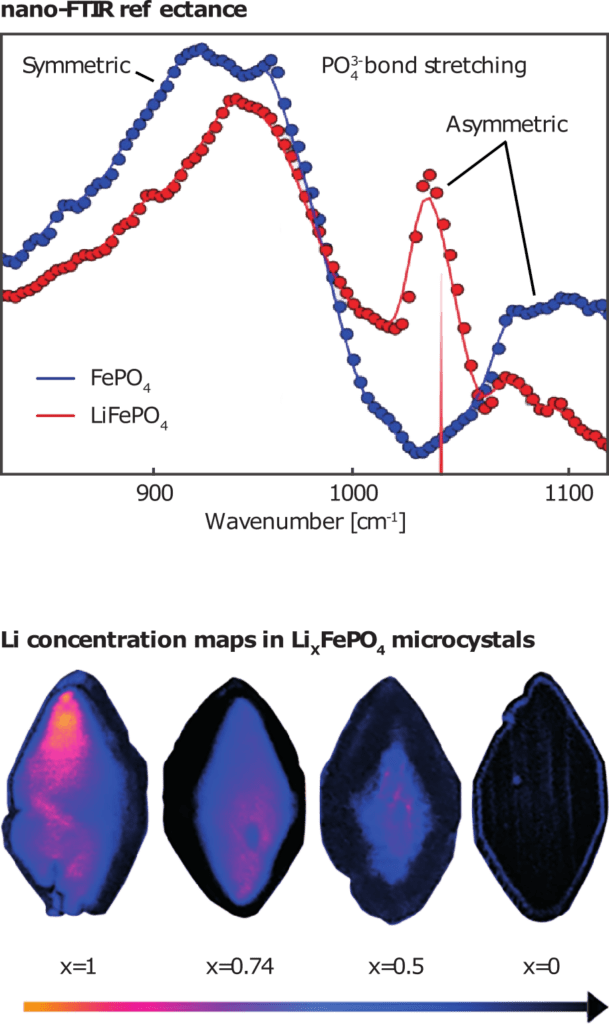 Monitoring of lithium decrease in LiFePO4
Nano-FTIR spectroscopy and infrared nanoscopy of the Li-ion battery electrode provide direct evidence of the coexistence of LiFePO4 and FePO4 phases in partially delithium microcrystals. We can observe how the inner core of diamond-shaped LiFePO4 surrounded by an FePO4 envelope gradually shrinks. In addition, the measured data also reveal the charging and discharging mechanics of a conventional Li-ion battery and reveal the relations between electrochemical efficiency and material design.
IR-neaSCOPE+s enables IR imaging and nano-FTIR spectroscopy by detecting radiation reflected from a standard AFM tip. It is a universal solution for all types of materials. It measures both absorbed and reflected radiation simultaneously and uses the fastest and most reliable modules for nano-imaging and nano-spectroscopy.