Identification of adulterated edible oils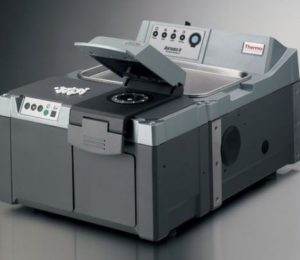 Olive oil is the most counterfeited product in the EU and, according to European regulators, the black market in this sector is as lucrative as the drug trade. In most the purchased counterfeit is harmless (cheaper oils are usually coloured with a green dye of plant origin), even so, this business harms honest producers.
However, with the methods of vibrational spectroscopy you can not only identify a counterfeit product, but also study the parameters of the real, e.g. to improve production processes.
The following parameters of edible oils can be monitored:
iodine content
average length of fatty acid chain
oil identification and qualification
fatty acid profile, humidity and other parameters
the quality of the seeds from which it is made
With the Antaris II FT-NIR spectrometer, it is possible to measure solid, pasty, liquid and powder samples, and even inhomogeneous mixtures.
We also offer a wide range of intelligent measuring accessories that make complicated measurements easier for you: a module for measuring liquids and films, probes for in situ measurements, integration spheres and more.
The Nicolet iS5N is a small, easy-to-use, reliable and low-maintenance FT-NIR spectrometer that makes near-infrared spectroscopy accessible to all users, not just spectroscopic professionals.
Its unique design allows deployment in both process and laboratory conditions to control the composition and uniformity of products and intermediates, identification of raw materials, and verification of products.