Morphological and chemical characterization of modern nonwovens using scanning electron (SEM) and infrared (FT-IR) microscopy.
Nonwovens are one of the fastest growing segments of the modern textile industry and now represent a significant part of total production. At the beginning of 21st century, almost half of the nonwovens produced were made of polypropylene, a quarter of polyester and a tenth of viscose fibers. Multilayer nonwovens composite fabrics, laminates and three-dimensional nonwovens are commercially produced and used in a wide range of industrial engineering (insulation, automotive industry, etc.), and especially, they play a crucial role for medical and hygienic products. For example, mouthwashes are one of the currently essential products made from nonwovens. The complexity of these fibrous materials requires the use of a combination of multiple analytical techniques to fully characterize them.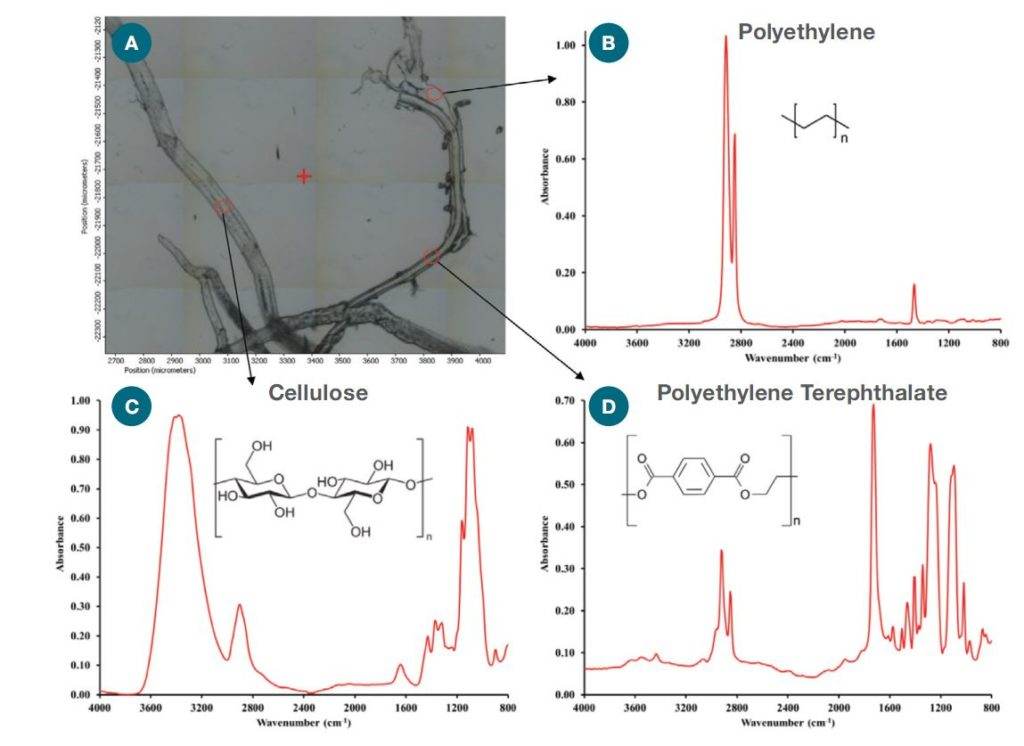 Scanning electron microscopy (SEM) and infrared (FT-IR) microscopy are two widely used microscopic techniques for characterizing nonwoven materials. The SEM technique offers a very high spatial resolution (at the nanometer scale) of the acquired images than other optical techniques. It provides images of fibers with a characteristic three-dimensional appearance useful for understanding the structure of products. However, the difference in chemical composition is manifested in the SEM images only by contrast, the exact chemical identity cannot be easily determined by this microscopic technique. And this is where FT-IR microscopy comes into play. This highly chemically selective method very easily and quickly identifies the chemical composition of fibers (even combined) with the limitation of the so-called diffraction limit of infrared light, which is around 10 micrometers. Modern FT-IR microscopes such as Nicolet iN10 and Nicolet iN10 MX are equipped with extensive libraries of polymeric and natural materials for fast identification and eventual quantification of individual fibers. The control software of SEM and FT-IR microscopes also enables the creation of correlation "chemical images", from which it is very easy to read the complex structure of the measured nonwoven fabric.
More information can be found here: Morphological and chemical characterization of a non-woven fiber using electron and infrared microscopy