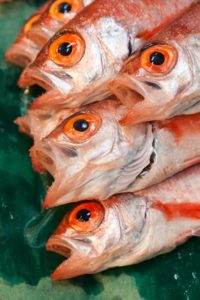 In addition to being an important part of our diet, fish is also often a key ingredient for the production of feed for livestock and pets. During the process of the production, fish meat is cooked, pressed, dried and undergoes a number of procedures. As this is not a straightforward process, it is necessary to control all production steps and, in addition, to determine the key parameters of the final product.
However, the input raw materials are quite diverse (salmon, pike, shrimp), so their analysis is usually complicated and lengthy. Generally, the protein, fat and moisture content are monitored, each of the parameters being performed by a different method and requiring specially trained personnel. One analysis can take several hours, though.
With near-infrared spectroscopy (FT-NIR), all these measurements can be performed at once, in a matter of seconds: in TQ Analyst, we create a calibration method for the monitored parameters for you, and then you only measure. FT-NIR spectrometer Antaris II is reliable, fast and can be used to analyze solid, liquid, powder and pasty samples, and thanks to its relatively small dimensions, it fits into any operating laboratory.
The Nicolet iS5N is a small, easy-to-use, reliable and low-maintenance FT-NIR spectrometer that makes near-infrared spectroscopy accessible to all users, not just spectroscopic professionals.
Its unique design allows deployment in both process and laboratory conditions to control the composition and uniformity of products and intermediates, identification of raw materials, and verification of products.